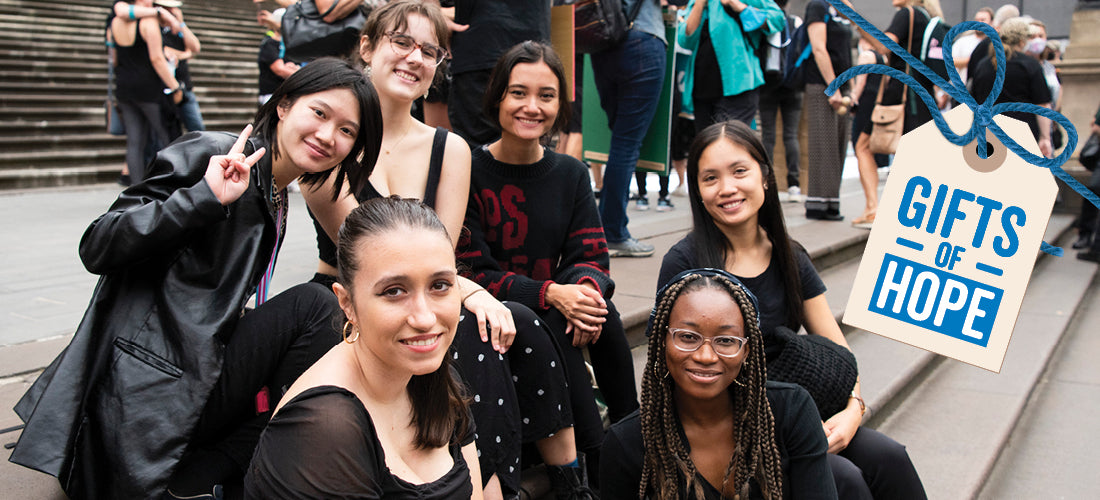 Celebrate the 10-year anniversary of the International Day of the Girl with our Youth Activists
The Youth Activist Series (YAS) is a 12-month program that supports girls of all diversity who are passionate about campaigning for gender justice and want to inspire more young people to speak up on issues which affect them. The program has helped these young activists develop valuable skills to use in the workforce, meet like-minded people and create meaningful change.
We spoke to three of our wonderful youth activists to get their insights on YAS and what their hopes and dreams are for young girls everywhere this International Day of the Girl (IDG), October 11, 2022.
Grace Falconer (she/her)
Grace is currently studying a Bachelor of International Studies (Development) and French at university. Grace is passionate about climate justice, gender equality, and ensuring all children have access to quality education. Being adopted has shaped Grace's interests, and she hopes to pursue a career in international development and work in Vietnam. She currently works with Plan International Australia in the Donor Consultant Team. She was inspired to be part of the YAS to elevate youth voices and advocate for girls' rights to be protected globally.
Can you talk a bit about the work YAS is doing for IDG?
I and other youth activists from Vietnam, Indonesia, and Australia are leading a project on how young people engage in political processes and decision-making. We developed a questionnaire to better understand how young people are currently involved in political activism, what they want to achieve from being politically active, and whether they feel their voices are being heard. We will use these findings and recommendations to influence government officials and policymakers to be more accountable and transparent and create clearer pathways for more young people to get involved in political activism.
Why is IDG important for you?
International Day of the Girl is important because it recognises that girls around the world continue to face many challenges to their education, well-being and ability to engage in politics. IDG helps raise awareness of these issues and makes sure there is ongoing momentum to reduce these barriers.
Gifts of Hope are all about spreading hope. What do you hope for girls in the future?
I hope that girls in the future will live in a world where they are treated as equals and aren't afraid to speak out. One that will invest in their agency and leadership potential. According to the Represent Us report by Plan International Australia , 90% of women and girls surveyed thought it was easier for men to succeed in politics and almost 75% did not believe that politics was an equal space for women and those from diverse cultural backgrounds. I hope that this perception of politics in Australia changes and that more girls want to pursue a career in politics while feeling safe.
Siena (they/she)
Siena is a queer creative and activist living on Gadigal Land. She is passionate about improving representation for minorities in media and politics. Siena has experience volunteering with community based and national charities, and believes in order to create meaningful solutions to wicked problems we need a coordinated response from corporate, non-for-profit and government sectors. 

How did you first get involved with Plan International?
I became involved with Plan in 2021 through their Youth Activist Series. I wanted to use my skills and lived experience to help improve the lives of young girls in Australia and overseas.

Why is IDG important for you?
IDG gives space to recognise the incredible progress made each year to improve girls' rights worldwide while simultaneously drawing attention to the work that remains.

What would you like our donors to know about our special edition Gifts of Hope cards?
This International Day of the Girl you can support girls and women and help give young girls the dignity we take for granted. Buying a Gift of Hope not only raises awareness of the global challenges girls face, but demonstrates how we can meaningfully contribute to the solution.

What do you hope for girls in the future?
Having high hopes is often labelled as naive. But without hope we underestimate the impact we can actually make. I hope that, gradually, all communities embrace education for girls. I hope that 'women's work' and the contributions of girls will be valued, and their rights respected. Most of all, I hope that all girls have the freedom to create the life they deserve.


Christina Cushen (she/her)
Christina is born in Melbourne and is a 2nd-year university student studying Business and Law. She is learning Spanish and intends to work at the United Nations in the future. She is passionate about gender justice and human rights issues and hopes she can make a difference.

Why is IDG important for you?
IDG is a day where we can spotlight and focus on issues that matter to women, particularly young girls' rights. This is important because girls' rights and the issues they face are generally not focussed on. This needs to change.

Why should our donors purchase these limited-edition IDG Cards?
By purchasing our limited edition IDG cards donors can support Plan International and the work we do, which is to advocate for women's rights. This is important because we have a long way to go with the future of women's rights on the global stage.
What do you hope for girls in the future?
My personal hope is for equality between men and women, girls and boys. We do have a long way to go, but I hope to see that as a reality soon.
Gift Ideas for International Day of the Girl
By choosing our limited-edition IDG Gift of Hope, you can recognise all the inspiring young girls in your life and help support the ongoing need for our youth leadership programs. With these programs girls help create inter-generational change on critical issues that impact them and their future, like child marriage and economic and financial freedom.

See our limited edition IDG Gifts of Hope or browse the full range. With digital cards being sent to your email instantly, it's not too late to celebrate the upcoming birthdays in your life!